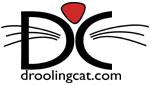 droolingcat.com provides a virtual showcase for Simeon Leifer and Ketra Oberlander to display their individual talents in one shared space.We welcome your interest in our creative endeavors.
This site was named for our mascot, Tinkerbell, the sweetest little gopher killer we know.
Information about software from the 'before time' is still available.
Check out the PSA we worked on to promote best practices for driving when blind or visually impaired pedestrians are present.